I'm sure everyone reading knows of "Where the Wild Things Are" by Maurice Sendak. I personally love the book. The story is brilliant and well written, the illustrations are just superb and the whole structure of the book is genius. I analysed it as part of my honours project and it made me realise just how great a book it is. I'm also looking forward to the movie, if you haven't seen the movie trailer take a gander right here...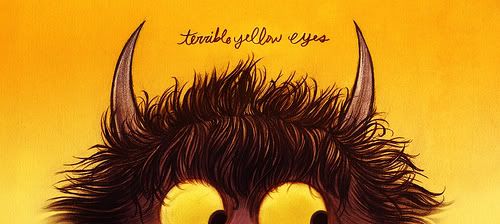 To get more of a fix of Wild Things, take a look at this website called
"Terrible Yellow Eyes"
created by illustrator
Cory Godbey
. He has invited a number of excellent illustrators to join him in creating artwork inspired by the book. It's still a continuing project so add it to your blog reader and delve into the magical world of the Wild Things, and perhaps join in on a wild rumpus or two!